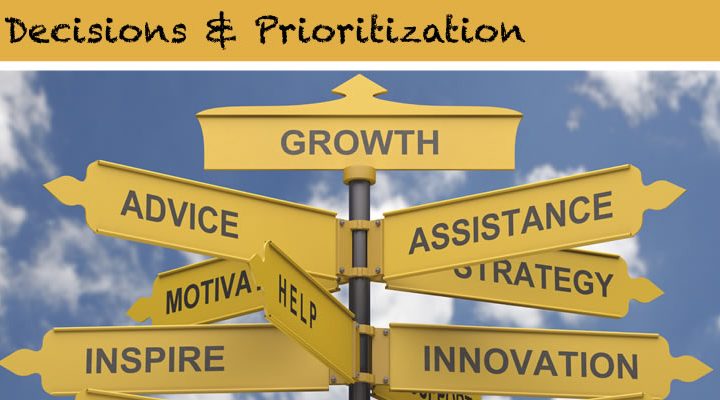 The goal of this section is to understand how to prioritize your shortlisted opportunities to ultimately make a decision about what you are your company will pursue and then assign resources accordingly. If you follow the process I described in the previous section of this training, you should now have a nice small pile of opportunities that you want to consider in more depth.To prioritize the opportunities you'd pursue, I recommend reviewing each of your shortlisted tenders from two perspectives – your personal or organizational goals and your ability to deliver high quality work for your client.
In my personal practice over the last decade in international development and humanitarian aid, I have found that a critical factor determining the difference between a small business or NGO that lives hand to mouth and a brand or movement that truly grows and becomes a force lies in the leadership's ability to understand "why" you pursue a particular opportunity.
Because of the nature of our work, very often financing, or budgets are always on our mind. Because of this, there is a tendency for this to be a driving factor in decision-making – especially when it comes to fundraising or new business development.
While the acquisition of a new project or program for the purpose of sustaining or growing an organization's bottom line is a valid pursuit, there are many other reasons you may choose to pursue an opportunity. For example, you may have become a leader in your niche and you're interested in growing beyond that niche into a second or third, so you're interested in pursuing opportunities outside your normal bandwidth. Another example would be to pursue work specifically to grow your staff – pursuing and then accepting a piece of work that wouldn't necessarily improve your bottom line but may bring many more human resources and your organization. Another example may be to pursue an opportunity to support a particular initiative or cause. In these cases you may even agree to accept a piece of work at a financial loss so that a greater cause or initiative continues to move forward.
At the time I'm recording this training, ISG is currently pursuing a strategy of growth. After several years of maintaining our bottom line and solidifying our expertise in our niche, were now willing to accept or pursue opportunities that are slightly beyond what we consider our normal boundaries with the intention of growing our staff and growing our bottom line so that would be we can become competitive in the next bracket of opportunities as far as size and scope.
The second perspective you really need to consider when looking at your shortlisted opportunities is whether or not you'll be able to deliver super high-quality work for your client. For example some questions you might ask would include: 1) do we have the capacity to manage the work? 2) do we have the talent, or can we access the talent, in order to perform the work with high quality (and this would include staff, external consultants or partners)? 3) can we make a budget that makes sense – in other words will we be financially competitive, and doesn't make financial sense for the company? 4) and perhaps most important of all… What will competition be like, and can we offer a solution that's truly unique that will set us apart in the eyes of the client?
When considering whether or not an opportunity is a good business decision, it's again in your best interest to learn to exercise that muscle of saying "no" more often than not. Truly successful companies and professionals have learned how to say no to any, and everything, that doesn't take them closer to their personal or organizational goals.
Using these two criteria, you can rank your shortlisted opportunities according to those that are truly good fit and those that are less so. At this point, you or your business development leadership will need to take a decision about which of these "best fit" opportunities you have the time and energy to pursue. Once this decision is taken you can move onto the next step of assigning roles to the proposal development process.
Thank you very much for watching the section of Decisions and Prioritization related to RFA's, RFPs and RFQ's. If you have any questions please email us at training@aidpreneur.com.