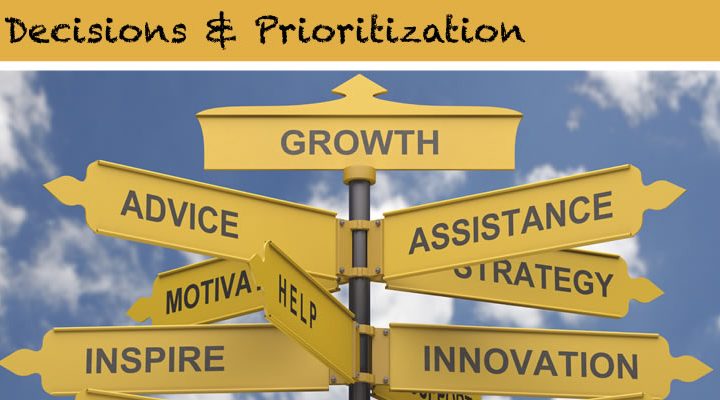 The goal of this section is to talk about the first filtering process – the "Go / No Go" decision.Before you even start saying yes or no to opportunities, you want to make sure you don't have too many opportunities to consider. This may seem counterintuitive – because, the more opportunities you pursue, the better chance you will have to win new business, right? This couldn't be further from the truth. What we have found over at ISG, relates to the very simple and well-known principle of staying focused. Said another way, "If you try to be everything to everyone, you end up being nothing to nobody."
If, as a part of your business development review process (which is so important it has its own training within the Business Development section here at Aidpreneur), you find you have a very low percentage of wins, one of the first areas to look at is your decision criteria about what you identify as a real opportunity for your practice. The short story is the better defined and laser focused your niche is the more likely that you'll be successful at winning business within that particular area of expertise. This is directly related to how you define your niche.
For example, International Solutions Group focuses on helping development and humanitarian aid organizations perform better. This could mean a lot of different things – we could focus on financial systems, we could provide solutions for human resources, we could provide solutions for strategy development, or any number of other services. However, we've decided to focus our business on high quality evaluations of development and aid programming, with an emphasis on enabling technology and regional or global frameworks. While this may seem to limit the number of opportunities available to us, we find that it allows us to be much more specific about what we can provide, who we provided for and how we deliver value for those organizations who are our clients. (For a more complete discussion on how to define your niche and what that means for your business a success please check out the other training on this topic).
Assuming you have a reasonable pile of opportunities identified, your next step is to review those opportunities. If you are an independent contractor, this means setting aside a specific time on a consistent basis where your only task is reviewing and making Decisions. If you work for a company, this means meeting with your team. Depending upon the size and nature of your business and the type of services you provide, this could be daily, weekly, biweekly, monthly or some other timeframe that best suits your particular cash flow and organizational needs.
To be prepared for this meeting, someone in your organization needs to have the responsibility of ensuring a quick and thorough presentation of each opportunity so that the group that's meeting to make a decision can understand the opportunity quickly and make that fast go or no go decision. As an independent professional, its important for you to understand the 3-5 pieces of information you always review for each opportunity.
At the meeting, or during your personal review, the next step is to apply your high-level decision criteria to each and every opportunity in turn. It's important that each opportunity be considered and a "Go / No Go" decision made. At this point it's not even necessary to ask about the "why"; diving deeper into each opportunity is a part of the next filtering process.
This training is not designed to provide you with your high-level decision-making criteria (Please see our other training here at Aidpreneur.com about how to develop these criteria). However some of these might be: 1) does this opportunity fit our niche? 2) Can we respond to the tender in time? 3) Have we worked with this potential client before? 4) Do we have an "in," in some way for this opportunity? … The high-level decision criteria you apply should reflect basic issues of your ability to respond to a tender and your propensity to actually win it.
Ultimately, if the answer to any of your high-level decision criteria is "no", then you should toss the opportunity, and move onto the next for consideration. There is not reason to debate an opportunity further, because there is plenty of new business to be won in this market. In fact, one of the most important lessons we've learned at ISG, is the empowerment and improvement in quality that comes from learning to say "no" often. This really is a muscle that you need to develop either as an independent professional or as a small company.
At the end of the "Go / No go" process, you should have a very manageable, or small, list of potential opportunities that you can take to the next step of the filtering process – prioritization. This is the topic of the next training.
Thank you very much for watching the section of Decisions and Prioritization related to RFA's, RFPs and RFQ's. If you have any questions give us a shout at training@aidpreneur.com.