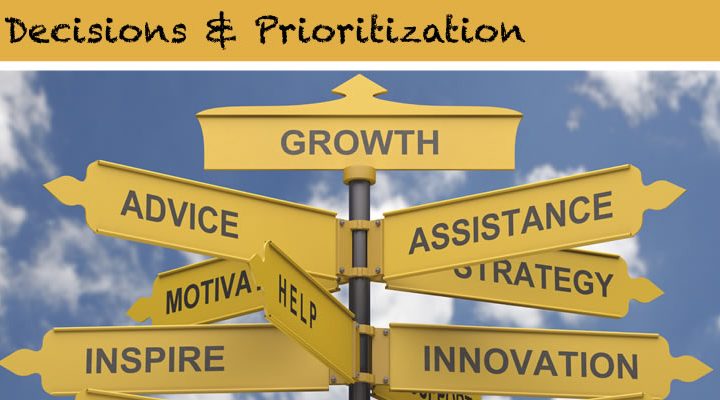 Welcome to this training on Decisions and Prioritization related to RFA's, RFPs and RFQ's. I'm Stephen Ladek, host of the Terms of Reference Podcast and Principal of International Solutions Group.This training has two goals: The first goal is understanding how to make decisions about which projects you'll pursue. While this may seem like a very simple question to answer, it's important that you set up clear criteria for understanding which opportunities are a good fit for your company and provide you with a realistic opportunity to actually winning the bid. All too often over the last decade or so as I've worked with independent professionals and small companies there's an incredible amount of time spent considering, and spending energy on pursuing opportunities that have very little chance of becoming a reality.
The second training goal is to understand how to prioritize the projects you have decided to pursue. This second goal, in my opinion, is even more important than choosing projects you're likely to win. I'm a very big believer that there is ample opportunity within this marketplace of humanitarian aid and international development, so "finding work to get paid" is it really the most important question. The most important question is, "Will this particular opportunity take me closer to my professional organizational goals?" I'll be discussing this in great detail later on in this training.
Before you dive into the next module, it's a good idea to make sure you've gone through the previous training on identifying opportunities for RFA's, RFPs in RFQ's. This will make sure that you have set up a system that consistently delivers opportunities to a single inbox or person.
There are two other things that are important for you to have an understanding of to get the most out of this training: first, you should have a clear understanding of your high level "go/no go" criteria for whether or not you will pursue an opportunity – will be discussing how to apply these in the next module. Second, it's a good idea to have a clear understanding of your personal or company goals and the strategy that has been chosen to achieve those goals – this will become very helpful we talk about prioritization in the third module of this training.
Now, if you don't have your high-level criteria or your strategic goals chosen, I still encourage you to move forward with this training. But you should deftly make it a priority to visit some of the other trainings here at Aidpreneur about how to create those high-level decision criteria, developing your personal or company goals and designing a strategy to achieve those goals.
The first step in the decision and prioritization process for RFA's, RFPs and RFQ's is making a "go or no go decision". This is the topic of the next training model. If you have any questions at all, please make sure to contact us at training@Aidpreneur.com